Cyrano
2021 | movie
DoP Seamus McGarvey
Director Joe Wright
Leitz lens LEITZ PRIME
Camera ARRI ALEXA LF
Production Companies Metro-Goldwyn-Mayer (MGM) | Working Title Films | BRON Studios | Universal Studios
Distribution United Artists Releasing | NOS Audiovisuais | Tulip Entertainment | United International Pictures (UIP) | Universal Pictures Argentina | Studio Distribution Services (SDS) | Universal Pictures Home Entertainment (UPHE) | Universal Pictures
Awards Nominated for 1 Oscar. 9 wins & 47 nominations total
Equipment Supplier Panavision | London
Country UK | Canada |USA
ONE LENS, THREE LOOKS: CYRANO WITH SEAMUS MCGARVEY, ASC BSC AND LEITZ PRIME LENSES AND ZOOM LENSES
Cyrano is a feature film musical directed by Joe Wright, lensed by cinematographer Seamus McGarvey, ASC, BSC, and starring Peter Dinklage in the titular role of Cyrano. Erica Schmidt penned the screenplay based on her 2018 stage musical Cyrano, itself inspired by the 1897 play Cyrano de Bergerac by French poet and playwright Edmond Rostand.
Seth Emmons: What can you tell us about the story of Cyrano?
Seamus McGarvey: In the film, Cyrano de Bergerac is a writer and poet of immense talent who suffers from crippling insecurity due to his small stature and believes himself incapable of being loved. He is enamored with the beautiful Roxanne, who, unaware of his affections, is in love with Christian. Christian is a soldier and has enlisted Cyrano to help him woo Roxanne with his words. Rather than happiness, what awaits this love triangle is war and death.
The original story is set in France in the 1600s. Where did you shoot for this film?
We shot primarily in the southern Sicilian town of Noto. It's a beautiful town adorned with these honey-colored stone buildings that offer an amazing glow. We also shot on Mt. Etna in Sicily, which is an active volcano over 3300m high.
I understand this is your first film using Leitz lenses.
Yes. I've tested other Leitz lenses before and when I first considered the LEITZ PRIMEs and LEITZ ZOOMs for Cyrano I didn't think they would be appropriate for a period film with so much warmth and roundness. But when I saw the lenses on the ARRI Alexa Mini LF I was surprised by their unique attributes. The soft roll off of focus was very appealing and their warmth was pleasantly unexpected. They also have this flare characteristic that I really loved. It's what most attracted me to them. The lenses seem to attract light and are a bit subject to blooming, which creates this lovely opalescence when you have hot highlights in the frame. I actually used that flaring as the base on which to build the look for the film.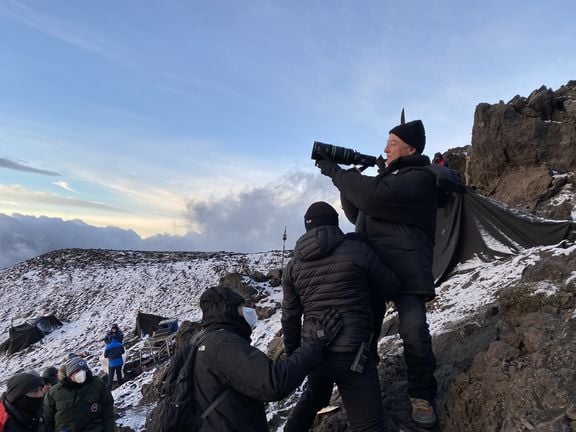 Can you talk more about how you built the look of the film?
The story progresses through three distinct parts. When testing I found that I was able to use the LEITZ PRIME lenses like three separate sets of lenses by adjusting the lighting and filtration, creating looks from balmy nostalgia to high contrast horror scape with quite minor adjustments really. The LEITZ ZOOMs matched perfectly through each scene.
The start of the film is characterized by a warmth and innocence presented in the honey glow of Noto as we experience the beginnings of this burgeoning love triangle. I accentuated this feeling by attaching Dior 10 denier stockings to the back of the lens with clips. Occasionally with very bright sources we would switch out the stockings for Tiffen Black Glimmerglass filters to afford us a bit more control.
The beginning is largely nocturnal with a lot of candlelight. Because the Primes are so fast at T1.8, we often shot wide open with longer lenses. Shooting wide open on the LF sensor with that shallow depth of field felt like medium format stills photography. I love shooting portraiture with this combination because it reminds me of my days shooting with Rolleiflex and Hasselblad cameras. It's something in the way the lenses and the sensor photograph faces, the way the eyes register. The beginning also has a stasis to the camera movement to further amplify the sense of portraiture.
As the action of the film develops the look turns and becomes more urgent. The camera starts moving and dancing with the actors. It is a musical after all. But this dynamism is missing from the beginning. We increase the depth of field along with a slightly heavier and more hurtling camera style while relying more on the Black Glimmerglass filters to preserve some of the contrast and keep the blacks black.
By the end the story becomes dark and they go to war. For this section I eschewed all filtration and shot clean as a whistle. I shot at a cooler color temperature and accentuated that in the grade with decreased saturation and increased contrast. Part of creating this monochromatic, high-contrast realm was setting the lenses at T5.6 and overexposing the image to create a more brittle, tactile quality that was sharper and more abrasive.
In the closing church scenes I used the natural flaring quality of the lenses to create the opalescent feel by shooting overexposed against big open windows and sources and letting the highlights bloom. We went with a softer, lower contrast treatment in the grade to further push this feeling.
I couldn't be happier with the performance of the LEITZ PRIMEs and LEITZ ZOOM lenses on this project. They've given the film a very distinct look.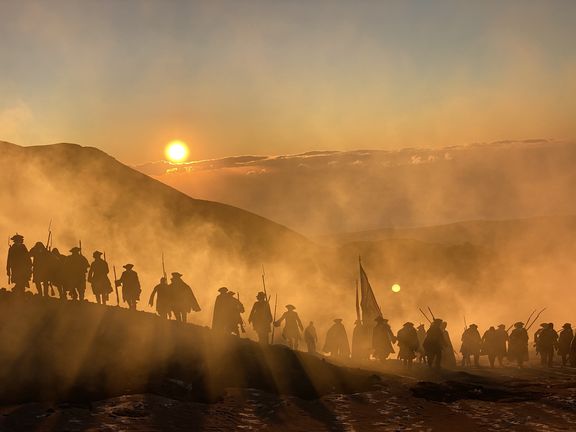 Were there any lenses in the LEITZ PRIMEs set that you gravitated toward?
We had the full set of 12 lenses from 18 mm - 180 mm, but the 65 mm, 75 mm, and 100 mm became the go-to lenses. We used the 18 mm quite rarely and frequently used the longer ones for close ups. There's a lot of close up/macro shots of writing in this film and much of it was captured by my amazing 2nd unit director/cinematographer Kate Arizmendi using the LEITZ PRIME 135 mm with the Leitz MACROLUX 114 diopters. She would stack combinations of the +0.5, +1, and +2 depending on the shot to show the calligraphy and wax seals of the letters.
Was there any feedback from post production about the lenses?
We did have some visual effects to do on this film and our VFX Supervisor Giles Harding thanked me afterwards. On a few shots he asked us to pull filtration and start with a clean image, later saying it was a godsend to have an image with such edge-to-edge precision.
I don't get involved so much with the discussion of metadata, but I know these lenses made the collaboration between 1st AC, DIT and VFX Supervisor very easy. All the critical information is transferred, which reduces hours of work of transcribing things manually. It's all in the footage: focal length, exposure, focus pulls, etc. I've had discussions on other productions where VFX was disappointed that I went with non-electronic lenses, but there were no problems on this film.
Something I've noticed in previous grading sessions on other projects is that each lens in a set has its own particular shade and color. When I was grading this film with colorist Peter Doyle we found that the LEITZ PRIMEs have a wonderful consistency between focal lengths and that the LEITZ ZOOMs were hard to tell apart from the Primes. That alone gave us more time to grade because we didn't have to spend time trying to match weird attributes.
I'm not a fan of vintage lenses with accidental attributes. I don't want to overwhelm the image. I love chance and accidents in cinema, but when you're photographing someone in a snowy landscape you don't want to be left struggling to pull the actors face out of the image. I want to know I have an image that is malleable and changeable.
I am a fan of anamorphic lenses, but they can introduce lens attributes you might not want to see when you want to go wide; those rectilinear distortions, bending of the horizon, lack of focus at the edges, distortion in the corners. These are things to be avoided at times. What I love about the LEITZ PRIMEs and LEITZ ZOOMs is the absolute precision edge-to-edge combined with all the possibility of distorting them with filtration. It's lovely to be able to start with clarity and do your intervention as you wish. This was my first experience shooting with the Leitz lenses and I fell in love with them.
Cyrano is screening now in select theaters.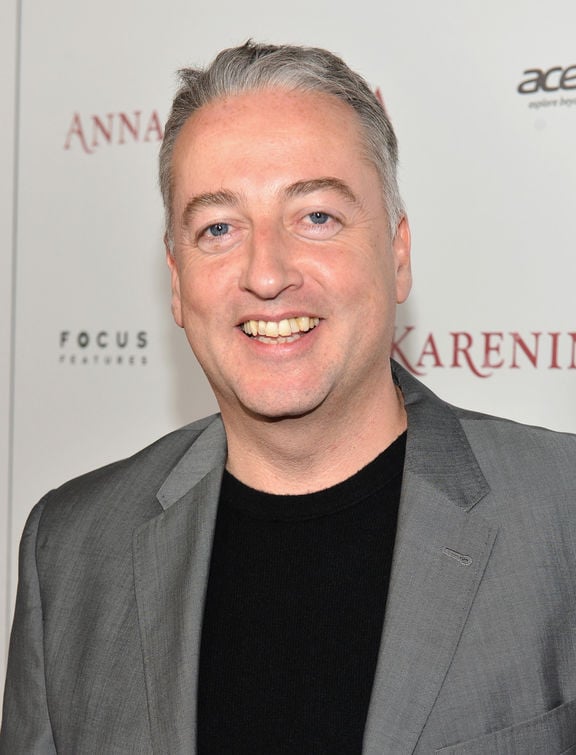 Overview
DoP Seamus McGarvey, ASC, BSC
DoB June 29, 1967 (age 56 years)