They See What I See: Leitz M 0.8 on PHOTOCOPIER with Gunnar Nimpuno, ISC
They See What I See: Leitz M 0.8 on PHOTOCOPIER with Gunnar Nimpuno, ISC
Photocopier (Indonesian title Penyalin Cahaya) is a genre-bending dramatic film that explores the social consequences of culture and status through the lens of a horror film that can be simultaneously engaging and disturbing. It was the first collaboration between director Wregas Bhanuteja and cinematographer Gunnar Nimpuno, ISC and received 12 awards at the 26th Busan International Film Festival including Best Picture, Best Director, and Best Cinematography.
—-
Seth Emmons: At its core Photocopier is a dramatic story, but it doesn't follow the formula of a traditional dramatic film. Can you talk about how the concept for this film came to be?
Gunnar Nimpuno: This project was unique from the start. It was my first time working with director Wregas Bhanuteja and also his first feature film. When we started talking about the film he said he wanted to make it suspenseful, like an investigation or a whodunnit, but he really wanted to us an approach more like a horror film. There is an element of the unknown to the subject matter that makes people feel afraid and he felt that including elements of horror would force people to feel that more.
That approach immediately gave us our direction for the look and we began to play with low contrast and low light. This also worked in our favor because the film had a small budget and I had limited access to lighting. To help ourselves out we chose to shoot on large format with the RED Monstro camera in 8K and I insisted on using Leitz lenses. I've used Leica cameras and lenses for photography since college. The Leitz M 0.8, which are based on the Leica M photography lenses, have a particular characteristic that I really love.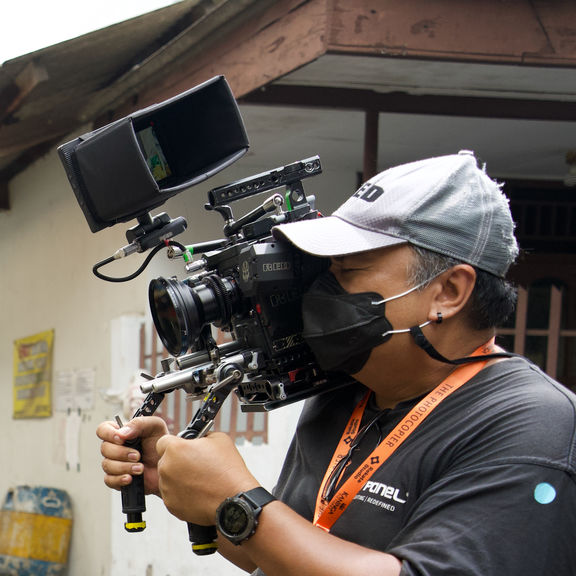 What were your inspirations for the look of the film?
For lighting and color my inspirations were Dharius Khondji's Seven and some of David Fincher's stuff, particularly Mindhunter. For framing concepts, I've learned a lot from Chivo (Emmanuel Lubeski, ASC, AMC), especially Tree of Life and The Revenant. I tried to approach Photocopier with similar framing.
Had you shot with Leitz lenses previously?
I use the Leitz SUMMILUX-C lenses a lot for commercial work, but the first time I used the M 0.8 lenses was about six months before Photocopier. I was actually shooting a commercial with SUMMILUX-C, but I needed to go to Borneo and shoot on a few islands. The schedule didn't work out for most of the crew so I told production that if they gave me the M 0.8 lenses I could go with my assistant and get the shots. We spent a few days running around and shooting like crazy and I loved the look and the experience. I said after that I would use these on my next feature film.
Since Photocopier was going to be shot on large format we originally chose the Leitz THALIA lenses and rented them from Brandlink in Thailand, but there was an issue with them getting stuck in customs so Brandlink rushed us a set of the M 0.8 lenses as a replacement the day before the camera tests began. Ironically, the rental house said at the time that no one was renting the lenses because they have still photo lens glass and cinematographers think of them as toys. I couldn't have been happier!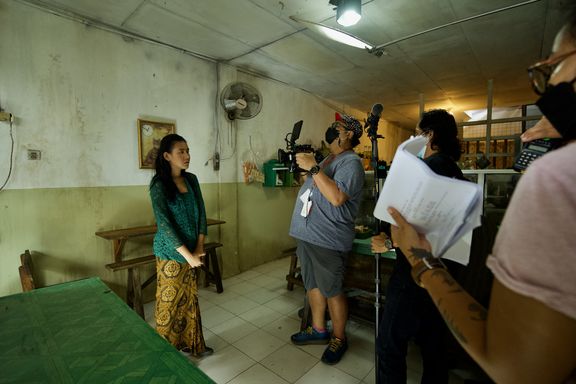 How did the lenses contribute to the look and feel of the film?
One of the biggest factors is that we wanted to shoot from a 1st person point of view. We were not going to only be an observer, but we would be inside the characters. The Leitz M 0.8 lenses are so lightweight that I felt really lucky carrying them. And of course at f/1.4 they are very fast so they were great in low light and made working with a small lighting budget much easier.
I felt that in some lenses they are vignetting or the focus throw is a bit weird, but that kind of stuff is what I miss in films. I also find that in still photography a lot when I use Leica lenses. But it's been ages since I found that weirdness in cinema technology. They have an interesting coating. In some of the shots you can see there is a bit of vignette and unexpected coloring and I used that as a strength. I liked that I didn't have to do it in post and could do it in camera.
The crazy thing about the M 0.8 is they just deliver what I see. People and skin tones look great so we shot the lenses clean with no filters. I did some tests with Black Pro-Mist and Hollywood Blackmagic filters, but we all felt like it became a 2-step thing. You try to make something look good, but you force it, and then it's not as natural. I threw out all the filters and put all the lights in a low mode and low contrast. I talked with the colorist to design the look, but in the end everything is all natural, no push or pull process at all. We used the same exposure throughout and never made it darker or brighter. On set when I couldn't see anything in the shadow the camera would still render the textures.
One of the things I've fallen in love with about Leitz in commercial work is that the lenses helps me a lot with the details. I can approach it both ways. For instance, in commercials I will use ton of lights because they want beauty and really good skin tones. And then when I used the M 0.8 in this film all the texture was there, without them being crisp. The Leitz lenses have this softness quality. If you watch it on a 4K monitor you can see all the textures on their clothes. You can feel the fabrics. You can feel the sweat on the characters' faces.
Most of the film we shot on locations that have the textures and moods we wanted. The production designer would add a little bit extra, but 75% was already there. Even the light source in many places was already there. Because I'm using a large format camera and using the M 0.8 lenses, I would tell them you don't have to work too hard to give me more lights and more textures because it is already there. The lenses will render what you see.
On the first day when we turned on the lights and the monitors there were no questions. That's why everything feels natural in the film, because there are no big lights hanging around.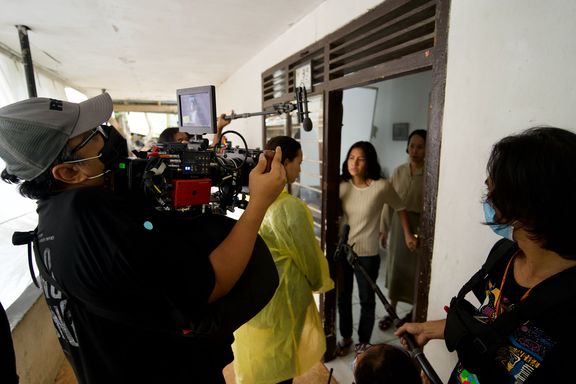 Whatever happened with the THALIA lenses that were stuck in customs?
They actually arrived for the last two days of the shoot and it worked out perfectly. The last two days we had to do two different scenes, which were very surreal and different from the rest of the film. The theatrical scene with the monologue had a lot of smoke where they burn the homes of the victims. The other scene was the last scene with the statement papers being thrown off the building.
That last scene was so powerful and captivating. I felt like I was holding my breath through much of it. Was there a reference for that scene?
There was no reference. It came from us. Wregas is really a genius. He's very inspirational and very honest about what he was thinking. When he first told me about the last scene, I was like, what? He tried to approach it in a really metaphorical way. He said that if he made this film with a really strong statement at the end people would not listen to it. People might think it is strange to be throwing the yellow paper, but it shows that even though the characters were defeated, they aren't totally beaten. They are still able to make their statement with writing. It's a poetic finish.
Overview
DoP Gunnar Nimpuno
Legacy
Unique and small. A new way to look at light, skin and color.