Anatomy of a Scandal
2022 | series
DoP Balazs Bolygo BSC, HSC
Director S.J. Clarkson
Leitz lens LEITZ PRIME
Camera SonyCineAlta Venice
Production Companies 3dot productions | David E. Kelley Productions | Made Up Stories
Distribution Netflix
Awards 1 win
Equipment Supplier Pixipixel
Country USA
LEITZ PRIMES EXPOSE THE DETAILS OF ANATOMY OF A SCANDAL WITH BALAZS BOLYGO, BSC
Anatomy of a Scandal tells a story from two different points of view, one of which follows the relationship of an aristocratic British MP and his wife whose lives are rocked by an affair and public allegations of rape, while also looking through the eyes of his accuser. Adapted from the novel by Sarah Vaughn, the challenge for director SJ Clarkson and long-time collaborator cinematographer Balazs Bolygo, BSC was how to tell a story that plays out in a courtroom in an emotionally intimate way.
By Balazs Bolygo, BSC
I always start with lenses when looking for a different approach. SJ and I recently did the BBC series Collateral / Together. That story also involved an MP in Parliament but was more a "state of the nation" piece. And despite similarities, we knew we needed to tell the story of Anatomy of a Scandal differently.
For this modern story I wanted a lens with a modernity to it, but that also had a personality and a patina. I found that look in the LEITZ PRIMEs. We are being transported into the home of the privileged class and it needs to carry a slight level of glossiness to present the level of detail in this aspirational sort of existence. The story itself exposes so much about these characters. I didn't want to put a visual barrier between them and the audience that would obscure those details. The visual language needed to reflect the story's intimacy and allow the audience in, and anamorphic or old lenses would have gotten in the way of the story.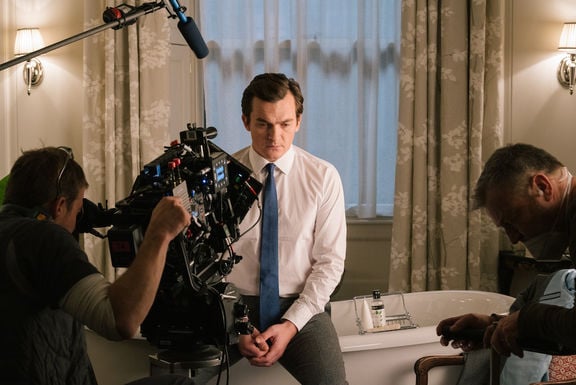 From the beginning of testing, I searched for something with the Leica look, a pleasant flare and roll off combined with good resolution; something that would be kind to the faces of our female characters. I love the look of the Leitz SUMMICRON-C lenses, but we were shooting full width on the Sony Venice sensor in 2.2:1 aspect ratio and I wanted something that would easily cover it.
My preferred way of testing is to start with a direction in mind, which was easy to develop with SJ. We both bring opinions and ideas, but our shared experience gets us going in a direction quickly so we have room to play. I like to take 10-12 sets of lenses out and shoot them in different conditions. I also look at detuning and adjusting lenses to create looks. At this time the LEITZ PRIMEs were brand new, but Kevan Parker from Leitz was able to get us three focal lengths and in test after test they stood out.
One thing that drew me to the LEITZ PRIMEs is that they have a gutsy amount of contrast. They flare really well and have a nice fall off, but not in the way a detuned lens does. What was most critical for this story was the resolution in the underexposed areas. It doesn't get muddy and can actually hold detail there. We did a test in a London alley with almost no light and it was amazing how much more detail it gave us compared to other lenses. This extra latitude for night scenes meant that I could soften things with my lighting and let them go, but trust that the lens would still expose them in a way that had personality and meaning.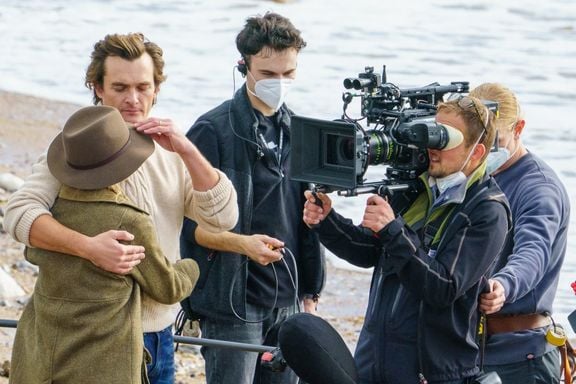 I prefer getting a look in camera as much as possible and didn't use any filtration on this project. The 40 mm LEITZ PRIME was our main lens for mid shots and wides. For close ups of Sienna Miller I always went with the 65 mm. For the flashback scenes I chose a completely different lens that would naturally set those scenes apart. I like being committed to the fundamentals of the lens choice, so I always go with a lens that I don't have to alter.
On this project the camera never stops moving. We designed the two main sets, interior home and courthouse, to eliminate restrictions to moving the camera around. Without lighting stands we could go past any window, through any door, and follow the characters through the spaces. We would often do 3-4 minute takes or start following a character outside, go through three rooms, and end up in a fourth. It was a bit of a challenge, but we didn't want the audience to slow down. As the characters' relationship is dissolving in the public eye the audience follows the characters and stays with them on an emotional level.
Anatomy of a Scandal was released on the 15th of April 2022 on Netflix.
Interview by Seth Emmons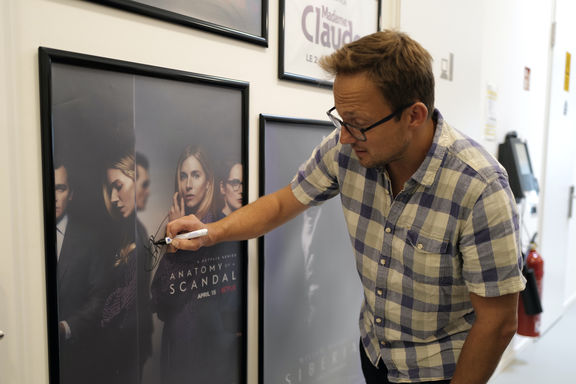 Overview
DoP Balazs Bolygo
DoB March 28, 1975 (age 48 years)