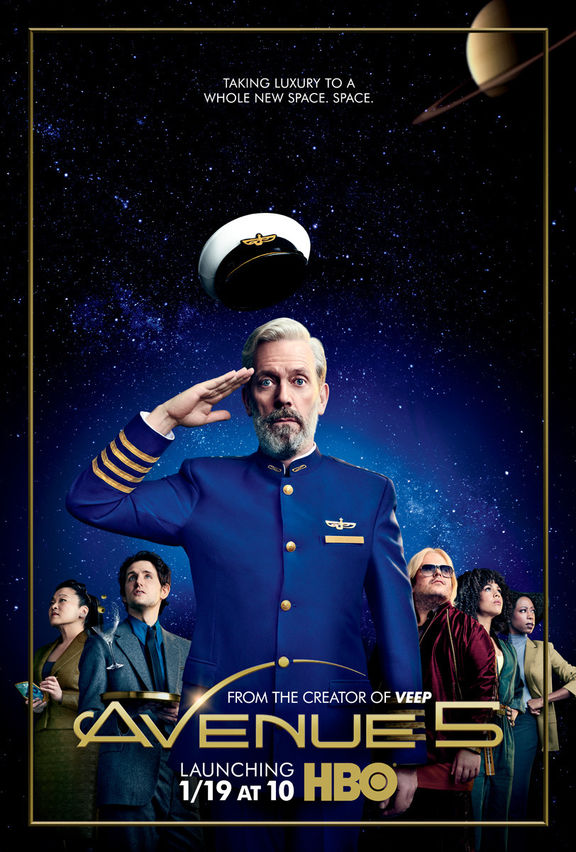 Avenue 5
2020 | series
DoP Eben Bolter, BSC
Director Natalie Bailey |Armando Iannucci | Becky Martin
Leitz lens SUMMICRON-C
Camera ARRI ALEXA Mini
Production Companies HBO (Home Box Office )
Distribution HBO (Home Box Office)
Awards 1 win
Equipment Supplier ARRI Rental | Los Angeles
Country USA
DP Eben Bolter, BSC Used Leitz Summicron-C Lenses To Capture The Spaced-Out Comedy for HBO's Avenue 5
Space. It's big. Laughably big. When the anti-gravity lever gets accidentally pushed the wrong way, Avenue 5, a luxury, interplanetary cruise-liner, touring tens of millions of miles around the solar system, gets shunted off-course. Oops!
This mishap, which also accidentally wipes out the ship's chief engineer, means the sumptuous six-week holiday for the fee-paying space tourists, suddenly becomes a three-and-a-half-year space endurance odyssey. Whilst the team at Mission Control on Earth are freaking out, keeping the rich, spoiled and disgruntled passengers calm amid the chaos proves quite a different matter for the ship's captain, before even more calamities unfold.
That's the premise behind HBO Originals' big-budget, nine-episode, dark cosmic caper, Avenue 5, created by satirist Armando Iannucci (Veep, The Thick Of It). The series was shot entirely by British cinematographer Eben Bolter BSC, who harnessed Leitz Summicron-C Prime lenses for a rich, cinematic-looking result.
Amongst the sizeable stellar cast, Hugh Laurie stars as Captain Ryan Clark, with Josh Gad playing Herman Judd, the zillionaire owner of Avenue 5, Zach Woods as Matt Spencer, the dopey head of customer relations, and Rebecca Front as Karen Kelly, an infuriated and infuriating passenger. With millions of viewers worldwide, and reviewers calling it "galactically good", Avenue 5 has been renewed for a second season.
Production took place over five months, from April to August 2019, where as many as 68 separate sets were built on four stages at Warner Bros Studios Leavesden (WBSL), UK. McLaren's Technology Centre, near Woking, home to McLaren Formula One Racing, was used as the setting for Mission Control. The dingy below-deck area of the stately spaceship was shot at a printing works in the East End of London.
"I had never shot, or especially wanted to work on, a multi-camera comedy before," admits Bolter, who normally is a single-camera shooter, and whose credits include the BBC Victorian thriller, The Woman In White (2018), using Leitz Summicron-Cs, and Amazon's dramatic sci-fi series, The Feed, (2019), with Leitz Summilux-Cs. "But I'm a great admirer of Armando, and his body of work. So, the prospect of working with him, plus a superb cast, on an hilarious HBO series, in which the audience never knows what's coming next, was too good to turn down."
Bolter was assigned to cinematographic duties after a three-hour interview at WBSL, starting with Iannucci and his thoughts about the look of the show, followed by meetings with the producers and production designers, and then a tour of the impressive sets that were starting construction. The set of the spaceship's atrium was 250ft/80m long, 150ft/45m wide and 100ft/30m high.
"Armando wanted Avenue 5 to feel cinematic and colourful, with the cinematography giving him as much coverage, and as many faces, as possible, in order to capture the comedy – some of which came from the script and some from improvised moments," Bolter says. "Along with this, I had to factor-in how best to cover the amazing sets, the high page-count – we sometimes shot as many as 12-pages per day – and how to discreetly cross-shoot the action with as many as four cameras simultaneously."
After extensive testing during the six-month prep period, Bolter elected to shoot Avenue 5 in 2:1 aspect ratio, using Alexa Mini cameras rated at 1000ISO, fitted with Leitz Summicron-C primes, for the cruise-ship sections of the story, supplemented with Angenieux 28-70mm zooms for those taking place on Earth.
Early-on in prep, Bolter collaborated with the show's DI colourist, Dan Coles at Technicolor London, to develop a single show LUT that would emulate celluloid film and give the image additional texture and warmth.
The 2:1 aspect ratio was first used in the 1950s for the RKO Superscope format, and has since been championed under the name 'Univisium', a universal film format for theatrical and TV movies, by cinematographer Vittorio Storaro AIC ASC his son Fabrizio.
"I considered framing Avenue 5 in Anamorphic and 16:9, but for the purposes of shooting multiple characters in the same frame, doing justice to the grandeur of the sets, and keeping the cinematic look, 2:1 felt suitably grand and modern," Bolter explains. "I know and trust the colour-science inside the Alexa having used that camera almost exclusively on my previous projects. To my eye, there's a sweet spot when you shoot with the Alexa at 1000ISO that gives you a bit more detail in the highlights, lovely shadow fall-off, and just a hint of texture."
The production shared two full sets of Leitz Summicron-C primes lenses across the four cameras used during the shoot – normally two Steadicams, with the other pair either on dolly, gimbal, crane or the shoulder. Typically, 21mm, 29mm, 40mm and 50mm focal length primes were used for the various wide/establishing, medium-wide and mid-shots, with 75mm or 100mm lenses to punch-in on a particular character. During production, Bolter typically monitored the separate cameras from the DIT area, directing the operators quietly via comms to adjust the framing.
Regarding his lens choice, Bolter remarks, "I am a big fan of Leitz lenses, and have shot my last three series with them. Aesthetically, Avenue 5 was a show with its own distinctive personality – not a typically cold and desaturated sci-fi movie, and not a parody of those movies either. Armando and I wanted colour, warmth and contrast, and a little bit of cinematic magic, and that's exactly what the Leitz Summicron-C's gave us.
"In combination with ARRI colour science, these lenses deliver images that have rich, beautifully-graduated colour and excellent contrast. They are visually-consistent right across the range, so I never had to worry about lens matching, and they are not so susceptible to flaring – all of which can be on-going annoyances with other lenses.
From a practical point-of-view Bolter also liked they way the Leitz lenses handled on-set. "They are lightweight, uniform in size across different focal lengths, and at T2 they are fast. So wherever you swing a lens, there is no need to rebalance a rig, no need to change bars or the matte box. You can just can swap-out one lens for another straightaway. The camera package was small, which meant we could slip multiple cameras into the action without affecting the actors.
"Essentially, I never had to worry about the lenses during production on Avenue 5, and this sort of reliability meant we could we get on with shooting quickly and efficiently to make our daily page count. The Summicron-Cs were just perfect for the vibrant, cinematic look we wanted for Avenue 5."
A key challenge for Bolter was in illuminating the sets to allow cross-shooting with multiple cameras. This meant the lighting being integrated into the sets and suspended from rigs above. Bolter, together with his gaffers Jonathan Spencer (pilot episode) and A.J. Walters (series) worked closely with Simon Bowles, the production designer, to integrate over 3miles/5km of RGBWW LED strips into the atrium set alone, along with 180 ARRI SkyPanels, some in 40x40ft softboxes, all colour-controlled and fully-dimmable from an iPad.
Bolter concludes: "I think it's good to work on something different, to feel pushed out of your comfort zone, and for me, Avenue 5 was the perfect case-in-point. It was nerve-racking and thrilling by turns, but Armando and the cast made sure it was also a lot of laughs too."
Character
Premium prime lenses designed for larger sensors on film and television productions.