SHIFT DYNAMICS CHOOSES LEITZ FOR FULL FRAME PRIMES AND ZOOMS
Shift Dynamics is a Nashville-based team supplying cinematic gear, expert teams, and custom solutions for world-class video and film production. Serving as a boutique-style rental house for productions of all locations and sizes, they house a carefully curated selection of cameras, lenses, and support equipment, in addition to an impressive array of camera movement systems including car-to-car and robotics.
Seth Emmons: Shift Dynamics is a relatively new business, but the people behind it have been active in the Nashville production community for years. Can you give a little background on the company?
Taylor Redd (Marketing Coordinator): Shift Dynamics offers full camera support and solutions. Clients ranging from freelancers up to large production companies come to us to rent complete production packages or fill in equipment gaps, but also for advice and expertise. Our team has a lot of experience in our primary markets and Shift Dynamics is growing into a solutions partner, not just a gear rental business.
Justin Wylie (Technical Director/Cinematographer): Shift Dynamics grew out of our sister company Gear Seven, which is a full-service production company. A lot of our work, and the work in the area, is commercials, music videos, branded storytelling, and corporate OEM work. As Gear Seven's work grew we bought more and more equipment. Eventually it made sense to create Shift Dynamics as a boutique rental company for a couple of reasons. One, we wanted to be able to offer gear and solutions to our DP friends and people coming to shoot here. Having separate branding for Shift Dynamics and Gear Seven makes it easier to work with a lot of people. The other reason is that it allows us to bring in even more equipment, spend more time with it, and offer expert solutions that help raise the level of creativity and capability across the region, not just for ourselves.
The way that you choose to grow as a rental business is rather unique. Can you speak more to that?
Justin: The goal is not to carry everything, but to make very specific gear choices from the perspective of DPs and camera operators. We're working professionals who use these tools ourselves so we have a vested interest in buying equipment that we trust and that we want to use on a regular basis while still staying ahead of the trends. If someone needs something we don't have we can sub it in, but our customers know that we have carefully evaluated and tested all our gear ourselves.
We carry a very niche and intentional selection of lenses. Most of our clients either want a super dirty, crazy, anamorphic look, or they want something cleaner with personality, so we have curated our lenses around those two creative poles. The Leitz Thalia primes and Leitz Zooms are two of our premium full frame options.
On the camera movement side we offer car-to-car capabilities with our Motocrane systems for our pursuit vehicles, robotics from Motorized Precision, plus Technocrane and lots of other amazing tools to create unique content in a repeatable and reliable way. But, we go one step further with a team of experts in using these tools that can train, support, or staff productions for our clients when needed.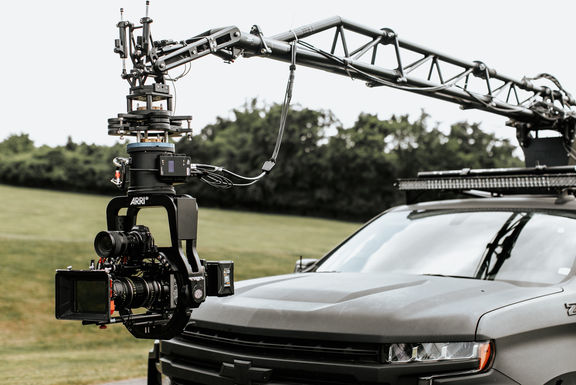 Is that where the solutions part of the business comes in?
Justin: Partially, yes. On commercials and shorter form work you often don't have the luxury of time during prep or production to work out higher level problems using higher level tools. You're just trying to get the best images in the small amount of time you're given. But, my generation of DPs in Nashville are starting to get these bigger projects with bigger challenges. Now the team at Shift Dynamics can step up and support them where they're at. By taking the time to master this high-end gear our team can raise the level of any production that wants to work at that higher level within the traditional time constraints of shorter form content.
Taylor: We further support productions by helping them elevate their vision and problem solve as they are in the process of prepping for a production. It isn't just about preparing them to capture the best shots, but really fulfilling their creative intent to the fullest potential within time and budget parameters.
Justin: The level of narrative and non-narrative content has never been higher. In order to avoid a jarring feeling once a program cuts to commercial, the production value of those spots needs to be equally high and interesting.
How have Leitz lenses fit into your product offerings?
Justin: We started out with a set of rehoused Leica R lense, which are absolutely amazing. They have so much character and we wanted something similar to cover large format sensors. The 19 mm doesn't get full coverage on some larger sensors though, so rather than suggest people crop in we wanted to get a set that was designed for great coverage on large sensors. That's why we purchased the Leitz THALIA prime lenses.
They have edge-to-edge coverage on every camera with that medium format separation, and they bring a smoothness to the image that our Rs and SUMMICRON-Cs can only sort of get at. To me, they offer a vintage feel without the vintage struggle. So many vintage lenses out there today come with concessions that we try to avoid. We help clients create the images they want without adding unnecessary stress so they can have a great day and come back happy.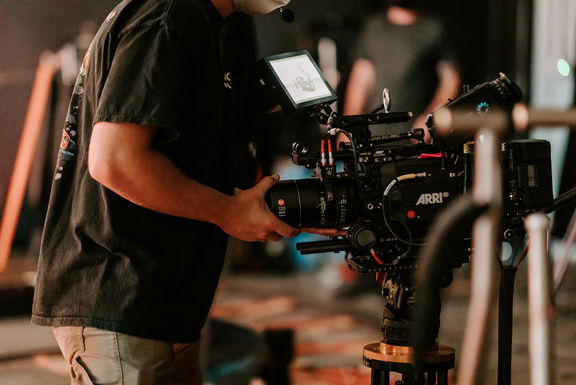 You also have a set of the LEITZ ZOOMs.
Justin: Full frame zooms were a hole in our arsenal and we wanted something to complement our THALIAs and intercut easily. There are other clean, clinical full frame zooms out there, but we wanted something with character. More importantly though we wanted zooms that weren't going to give us the usual struggles and technical issues to overcome. They needed to be reliable for all our car-to-car work, have a good range for fewer lens changes, be parfocal so we didn't have to continually futz with them on set, stay consistent through the aperture range for minimal adjustments when changing focal lengths, and offer enough depth of field to make people happy but not be too hard on assistants. The LEITZ ZOOMs check all the boxes while balancing those variables really well. Providing lenses that deliver on shot after shot, job after job allows our clients to focus on making the right creative choices without worrying about the gear compromising that vision.
With such a deliberate and curated product portfolio what is your purchase process like?
Justin: We buy a lot of our gear from B&H Studio. Just like our concept for equipment rental is to offer a more purposeful, boutique experience, that's exactly what working with B&H Studio feels like. They have the capabilities of a superstore, but I get personal emails from them like, "Hey, I know you're into this. Check it out!", or "We've got a little secret coming. Be ready for something you'll like." It's become this relationship where they know what we do and know what we think about on a daily basis.
Once you get to a certain point in the industry you don't want to "Add to Cart" a $30,000 lens. I want other brains involved. I want to have a connection with someone who can bring a professional option about a specific product, but also think about things we haven't considered. I feel connected with the people at the Studio who are supplying me with the tools I need and they have my back, just like I have the back of the other DPs that we work with.
What are some jobs the lenses have worked on recently?
Justin: I love shooting on the THALIAs and the LEITZ ZOOMs because they create a clean, professional image that still has some character. I can trust the colors coming out of them and my colorist is always happy because they don't have to fix skin tones, so I go to them pretty regularly. That's one reason I chose the THALIAs for a recent music video Gear Seven did for a local singer/songwriter Emily Rowed. We shot in our big XR studio, Arc Studios, with a full LED volume, including ceiling. I chose the ARRI Alexa LF and the Thalias to give that large format look with depth and separation to make the talent really pop out.
We created a bioluminescent forest in Unreal and added practical sets with meadow and tree elements around her on the floor. It was easy to do that math on the stop to make sure we stayed away from focusing on the LED wall and I used the 45 mm for most of it. However, I frequently pulled out the special THALIA-T 90 mm lens because wide open it has such a dreamy, ethereal kind of look that was perfect for the overall concept. There's nothing else like that lens.
Many DPs approach lenses like, "It's just a feeling," or "It's just magic." But there is something so cool about people like the team at Leitz who know exactly how to build something to create these looks with design, coatings, glass, etc. They determine what needs to stay and what doesn't so you get exactly what you want and none of the things you don't. At the end of the day their goal is to create a very interesting but very capable tool and our job is to connect our teams and clients to that passion for excellence.